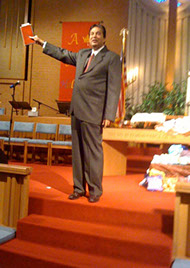 REV. PETER AND ESTHER PEREIRA
INDIA
The great spiritual need, as well as the poverty of the people, brought the Pereira Family to Hyderabad, India in 1996. Their ministry, Hope for Today, has planted 78 churches and opened Alpha Homes for 67 orphans as well as Alpha Schools for slum children. In addition, Rev. Pereira has established rural medical camps and a pastor's training center. He has brought Good News Festivals into the streets and education and spiritual training into the lives of countless menand women in an effort to train a new generation of leaders to reach even the most remote regions of India.
Our own Sunday school children, here at Faith Church, gave the Pereira's their first donations to bring 10,000 Indianchildren to Vacation Bible School. At last count, 9,700 children have been in Rev. Pereira's VBS program.
Since being named President of the South Asia International Leadership Institute, Peter's dream to train and mobilize leaders who can reach their nations with the Gospel has been fulfilled – and has posed even greater challenges and opportunities. Rev. Pereira has opened a campaign to the remote state of Bihar, India, a place of extreme poverty and virtually no penetration of the Gospel of Christ.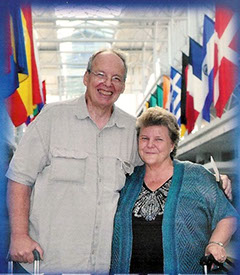 LOWELL AND CLAUDIA WERTZ: JOY IN THE HARVEST
KIGOMA, TANZANIA
January 2015 marks the Wertz's 35th year as missionaries in Africa! They began their missionary service in Zaire in 1980 and have been in Kigoma, Tanzania with Joy in the Harvest since 1993. Situated near the countries of Congo, Burundi and Rwanda, they have seen thousands of refugees come to their area. The Wertz's developed a variety of ministries in the refugee camps and are currently feeding street people, assisting people in crisis, and supporting a destitute camp for the handicapped. They are also building a two story community center to house a lending library, radio station, offices, kitchen, washrooms and an auditorium. After years of waiting, they were informed their 5 year radio broadcast license was signed by the Minister of Information and Communications on December 8, 2014! The next step will be to erect the radio towers for Radio Joy.
www.joyintheharvest.com/about/the-missionaries/lowell-claudia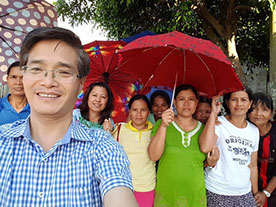 NEW DREAM CHURCH
BATAS, SILANG, CAVITE, PHILIPPINES
New Dream Church was pioneered under the mango tree without any building on the second Sunday of June 2015 and transferred to the garage of one member to have worship for 8 months. By the grace of the Lord they were able to build the church after one year. The congregation of New Dream church is not the richest. The poor are not well educated and don't have stable jobs, but they are eager to believe and follow Jesus Christ. The young generation is taught to overcome their poor circumstances and to prepare their future
"I wish Faith Church will be a good and faithful co-worker and partner for the New Dream Mission. MAY OUR NEW DREAM GO ON AND ON TO SAIL FOR SPREADING THE GOSPEL OF JESUS CHRIST. God Bless all of you!"
Sincerely yours in Christ,
Missionary Rev. Seung-Hwan Kim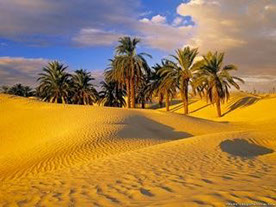 OASIS
Oasis Ministries was formed when two young people, a son and daughter of missionaries, met and fell in love and were married in Tanzania. They were immediately bonded by their love of Jesus, their love for the poor in the world, and their burden for witness to the Muslim world.
Faith Church stands in awe of this couple as they courageously go forth among the Muslim people with such complete trust in the power of the Holy Spirit and with the goal of sharing their lives in order to share Jesus with them.
They write: "We feel deeply privileged to introduce our Savior to those who don't know Him. Thank you so much for your partnership in sharing Jesus with Muslim people.